Programme coordinator:
Prof Teresa Stoppani

Supervisors:
Dr Doreen Bernath (representation, visual culture, digital media, architectural production and transcultural studies)

Dr Claire Hannibal (drawing in architecture, design processes, design communication, digital design tools, ollaborative design approaches)

Prof Teresa Stoppani (contemporary architectural theory and criticism, architecture and the visual arts, urban paradigms)

Dr Maria Theodorou (history and theory of architecture, architecture and the political)

Consultants:
Prof Franco Bianchini cultural policy and planning, cultural diversity and interculturalism, urban cultural strategies)
Prof Marco De Michelis, Visiting Professor of Architecture, School of Art, Architecture and Design (history, of architecture, histoy of art, art and design, contemporary art and architecture)
Dr Rebekka Kill (visual and performance arts, social media, research methodologies in the creative practices)
Dr Liz Stirling (contemporary art and graphic design, research by design)
Prof Ian Strange (heritage and conservation policy, urban regeneration, spatial planning, cultural geography, planning history and research methodology)

DR CLAIRE HANNIBAL(BA H Arch, BArch, PhD, PGCHE, ARB, RIBA, FHEA) worked in architectural practice and taught at the University of Liverpool before joining the Leeds School of Architecture in 2008 as a Senior Lecturer. She has taught architectural design at both undergraduate and postgraduate level and is currently the BA (Hons) Architecture Course Leader, undergraduate studio master and lecturer in Architectural History and Theory. Claire completed her PhD at Liverpool University supported by an EPSRC Doctoral Award; her doctoral dissertation examined the role of digital sketching in architecture. Her main teaching and research interests include: digital design tools, the role of the sketch in architecture, collaborative design approaches, technology enhanced learning, visualisation and communication, relating particularly to the ways in which we engage with the creative design process; with a background in fine art she is also interested in the blurred lines between art and architecture. Claire has co-authored articles and essays on representation in architecture, which include: 'Measurement of Presence in Large Scale Virtual Environments Digital Design' (21st eCAADe Conference Proceedings, 2003); 'How Useful is the Digital Sketch?' (22nd eCAADe Conference Proceedings, 2004); 'Contemporary Digital Techniques in the Early Stages of Design' (2005); 'An Assessment of the Effectiveness of Sketch Representations in Early Stage Digital Design' (2005). Recent conference papers have addressed architectural education and collaborative practices in design: 'Engaging Students with Assessment: Rejecting the 'Tick Box' Approach for BA1 Architecture Students' (The Centrality of Art, Design and the Performing Arts to Education, iJADE Conference, 2011); 'Developing an Urban Eco Settlement Policy Framework for Aire Valley Leeds' (with A. Stewart, 1st International Conference for Urban Sustainability and Resilience, UCL 2012); 'The Digital Dilemma: Product versus Process in Architectural Education' (with A. Stewart, DRN 2013 / Thinking Through Drawing Conference, Columbia University, 2013).


http://www.leedsbeckett.ac.uk/staff/dr-claire-hannibal/
C.Hannibal@leedsbeckett.ac.uk
DR DOREEN BERNATH (BA MA Cantab, PhD AA) is a theorist in architecture and visual culture. She teaches at the Leeds School of Architecture, the Architectural Association London and the UCL Bartlett School of Architecture. She was awarded a RIBA doctoral studies scholarship in 2005 and her thesis was shortlisted as one of four finalists for the RIBA President's Research Award 2011. She has worked as an architect in London, Shanghai and Taipei. Since 2006, she has taught design and theory courses at different levels and initiated research projects across universities in the UK, Germany, Costa Rica, China and Taiwan. Her publications explore histories and theories of design, visual culture and representation, transcultural studies, media theories and advanced digital architecture. She was an editor of Scroope 13, the architectural journal of the University of Cambridge. Her articles and research output have appeared in Time+Architecture magazine in China, Dialogue magazine in Taiwan, in the research journal of the Asia Centre at the London School of Economics, the Architectural Association Fulcrum, and in Revistarquis, the architectural journal of the University of Costa Rica.


http://www.leedsbeckett.ac.uk/staff/dr-doreen-bernath/
D.Bernath@leedsbeckett.ac.uk
PROF TERESA STOPPANI (MArch IUAV, PhD A&UD Florence) is an architectural theorist and critic. She is currently the Head of the Leeds School of Architecture at Leeds Beckett University. Teresa's research explores the relationship between architecture theory and the design process in the urban environment, and the influence on the specifically architectural of other spatial and critical practices. She sits on the editorial board of the EAHN journal Architectural Histories and of the book series Three Crosses: Art, Architecture, Criticism (Cambridge Scholars). Her writings are published internationally in edited books and academic journals, and include: a series of works on G.B. Piranesi's architectural space in relation to contemporary spatial practices (Footprint, Haecceity Papers, The Journal of Architecture); explorations of the significance of dust in architecture, philosophy, literature, the visual arts and media (Idea Journal, Log, The Jo urnal of Architecture); essays on the material and critical nature of architectural representation – the grid, the map, erasure, the model (47 al fondo, Angelaki, ARQ); a study of the complex relation of the project of architecture with destruction, war and trauma (Space & Culture, lo Squaderno); considerations on the critical nature of architecture (Common Ground. Critical Reader, 13th Venice Architecture Biennale, Marsilio 2012). Her book Paradigm Islands: Manhattan and Venice (Routledge, 2010) explored the impasse of modernist architecture in historical contexts, while the forthcoming X Unorthodox Ways to Rethink the City (Routledge, 2016) proposes a series of terms for the reconceptualization of the architecture of the city.


http://www.leedsbeckett.ac.uk/staff/professor-teresa-stoppani/
www.leedsbeckett.academia.edu/TeresaStoppani
T.Stoppani@leedsbeckett.ac.uk
DR MARIA THEODOROU is Senior Lecturer and History & Theory of Architecture coordinator at the Leeds School of Architecture, and Director and founding member of the independent School of Architecture for All (SARCHA). Maria holds a PhD in History and Theory of Architecture (Architectural Association), a postgraduate diploma (La Sapienza, Rome) and an architecture professional degree (AUTH, Greece), and has been a Fulbright visiting fellow (School of Architecture Princeton, USA 2005). Since August 2013 she co-ordinates the History and Theory of Architecture at the Leeds School of Architecture, where she promotes the study of "architecture as apparatus" and advocates for "an intense engagement with the history and theory of architecture and a firm grasp of the contemporary conditions". In charge of SARCHA's research programme since 2006, she has directed the CCR Athens Gerani, a city resources reset pilot project commissioned by the Hellenic Ministry for the Environment and shortlisted at The Resourceful Architect international competition in London (Royal Society of Arts, May 2011). She directs the development of Polypolis a role playing social game on the 'in common' administration of the human, natural and physical city resources, which was presented at the British Council's International Architecture and Design Showcase at the London 2012 Festival (www.polypolis.sarcha.gr). She has been in charge of the 'Un-built' international programme (SARCHA, Athens Byzantine Museum 2008), Head of the Architecture Network (Athens 2001-2006), Council of Europe expert (2003), exhibition curator of Athenscape (RIBA, 2003), director of the international architecture competition 'Ephemeral Structures in the city of Athens' (Athens 2002-2003), editor of the Athens D.O.E.S. series (2003), national coordinator of Archimed, best practice EU pilot project (1996-2001). Maria's own professional practice includes the design/construction of 18 building projects (2002-1982). Her current research, publications and teaching focus on architecture and the political. Latest project: Demos by SARCHA, presented at the London 2013 Festival of Architecture upon invitation by the British Council (www.demos.sarcha.gr).

http://www.leedsbeckett.ac.uk/staff/dr-maria-theodorou/

www.sarcha.gr

M.Theodorou@leedsbeckett.ac.uk
---
PhD Students and Research Projects
---
GEORGE THEMISTOCLEOUS
Embodying Perception: Countering the Limitations of Visual Representation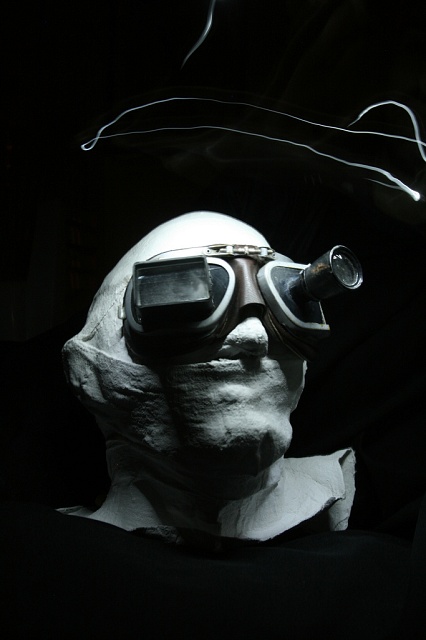 Linear perspective presupposes a division between body and space. Other representational devices, such as the stereoscope and the zoetrope, articulate a different body /space relationship. In this research the 'prosthetic' body becomes an intermediate term that is used to redefine the relationship between body and space, haptic and optic, representation and actual vision. The thesis critically re-thinks and re-conceives perspectival space and current forms of representation, i.e. digital media, and constructs custom-made supplementary representational devices. This approach combines an insight into current representational methods and their application in the process of design. In the process both the body and the tools for its conceptualization and represent must be redefined. In this sense if the body is already a place that correlates, via a technological interface, to other bodies, how is this extensity accounted for in visual representations?

George Themistocleous, BA(H) Art History and Architectural Design (Toronto), MArch, MA Arch Studies (Brighton) has practiced architecture in Cyprus and is currently a part time lecturer in Architectural History and Theory and a studio tutor at the Leeds School of Architecture. His research considers the limitations of current architectural representational methods in relation to a re-defined understanding of the body and space. George's work has been published in Cyprus Dossier and The Architectural Review.
http://www.georgethemistocleous.com

First supervisor and director of studies: Prof Teresa Stoppani
Second supervisor: Dr Doreen Bernath



BRADEN R. ENGEL
The Interface between Historiography and Practice in 20th Century Architecture: Colin Rowe and other Historian Émigrés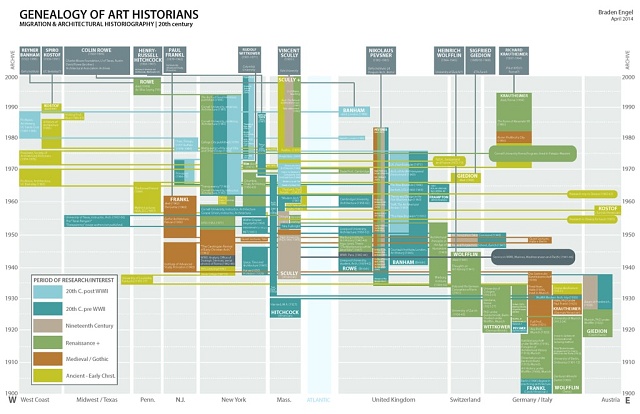 Postmodernity in the discipline of architecture is a history of historiography itself. Twentieth century American academies saw an influx of European architectural historians who transformed the way students viewed buildings and spoke of their own designs. The British-born historian Colin Rowe was the most active participant in this interface between histories and practices of architecture, and he marks the end of a long line of influential historian émigrés. Despite their significant impact on the culture of architectural education, the pedagogies of these historians in exile have not been fully historicized. Using Rowe as a point of orientation, Braden's research navigates this constellation of historians who enacted a shift in the role of history in architectural education.

Braden R. Engel (BScPhil MArch North Dakota, MA Histories&Theories AA London) has taught architectural history and theory at the Architectural Association and the University of Greenwich in London, and he is currently Undergraduate Architectural History &Theory coordinator at the Academy of Art University in San Francisco. His writings have been published in PLAT 2.0, AA Files, The Journal of Architecture, Planning Perspectives.
http://bradenengel.tumblr.com
First supervisor and director of studies: Prof Teresa Stoppani
Second supervisor: Dr Doreen Bernath
SIMON WARREN
Live Project Pedagogy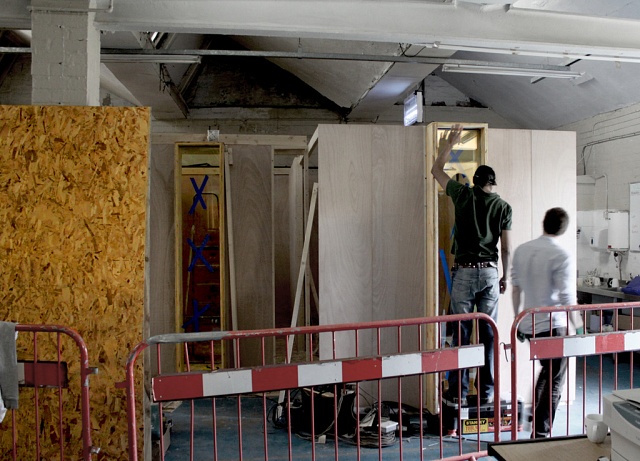 The research explores the 'live project' – a real life architectural design project which involves meaningful collaboration between students and a constituency outside the academic institution – as an essential pedagogical instrument in architecture, and proposes its essential role in a pluralist architectural education. Climate change and energy depletion, computer advances in design and making, and more volatile economic conditions all contribute to the architect facing increasingly dilemmas of how to practice. Live projects give students the possibility to encounter these realities in a direct way. Rather than being educated solely within the confines of the institution and the orthodoxy of pedagogy that might prevail there, the live project has been identified by many educators as an influential experience in raising and confronting these issues. This practice led research explores the potential of live projects as a vehicle to enquire into alternative models of architectural education and practice.

Simon Warren (BAHArch, DipArch, ARB) is Senior Lecturer at the Leeds School of Architecture, where he leads the Master of Architecture course and co-directs the Project Office. As a practicing architect Simon has been involved in built projects across the north of England from 1992 to 2008, and was a director at Bauman Lyons Architects in Leeds. The focus in his Post Graduate design studio, CITYzen Agency, is the engagement with neglected parts of cities.
http://simonwarrenarchitect.tumblr.com/
http://cagd.leedsmet.ac.uk/projectoffice/
First supervisor: Dr Maria Theodorou
Second supervisor and director of studies: Dr Liz Stirling
PETROS TSITNIDIS
From sustainable buildings to international environmental treaties: From top- down building legislation to bottom-up processes in environmental building design.




What is the process of translating international environmental treaties into legislation and buildings, and is there a possibility for the people to influence their outcome within a bottom-up process? How well educated are the green building occupants in order to use the buildings more efficiently and provide better feedback to the designers? Starting from these key questions the research explores the theoretical context of environmental design and practice, and investigates the top-down and bottom-up processes by which environmental treaties are created. More specifically, the investigation considers the ways in which international treaties are translated into "green" national policies and building regulations. It focuses on current theoretical debates on the environment and the political aspects involved in decision-making, but also on the potential for the end-user to feedback and shape international treaties. The research analyses the effects and "interactions" of "green environments" on end-users by discussing a number of case studies in the UK, in cooperation with the Leeds Sustainability Institute.

Petros Tsitnidis (DipArch, MSc) holds a MSc in Environmental Design and Engineering (Bartlett, UCL) and is currently a part-time lecturer at the Leeds School of Architecture. His research focuses on the theoretical context of environmental design and practice, and investigates top down and bottom up processes by which international environmental treaties are created. A registered architect (ARB), Petros has been an associate of the School of Architecture for All (SARCHA) since 2010 and was involved in a number of SARCHA's research projects. These include the development of Polypolis, a role playing social game on the 'in common' administration of the human, natural and physical city resources, which was presented at the British Council's International Architecture and Design Showcase at the London 2012 Festival.
First supervisor: Dr Maria Theodorou
Second supervisor: Dr Claire Hannibal
Director of studies: Prof Teresa Stoppani
GIORGIO PONZO
Knowledge work and its spaces: the architecture and the city of the creative worker




Among the forces that ceaselessly shape the material and the social construction of cities, the proposed research aims to focus on the impact of productive activities, especially in the transition from industrial to post-industrial modes of production. The research assumes that the specific needs and qualities of knowledge work both require and produce specific physical environments, posing a series of questions and opportunities for the development of urban space. The research aims to construct a theoretical framework for the argument, to gather a series of architectural and urban projects that can work as references, and finally to devise and question the architectural and urban models related to forms of immaterial production that seem to emerge. The research begins by questioning the definitions of 'knowledge' and 'work' towards an understanding of what knowledge production and/or immaterial labour are. Then, by looking at the current architectural production, the research aims to challenge the traditional boundaries of the architectural typologies where knowledge is produced, stored, shared, and processed, looking for a practice that is able to transgress scales, disciplinary boundaries and programmatic prescriptions.

Giorgio Ponzo studied architecture at the Berlage Institute in Rotterdam (MA, 2009-11) and at the Technical University of Turin, Italy (MArch). He worked as architect in Italy, completing small projects and prize winning competition projects for public spaces and urban design both in Italy and internationally. He taught at the Architecture Faculty of the Technical University of Turin and at the Berlage in Rotterdam and Delft (NL), and he is now a part time lecturer in Architectural Design at the Leeds School of Architecture. His activity as a researcher and an educator focuses on the transformation of the workplace in the shift from industrial to creative economies, looking at how architecture can be seen as an augmentation device for the cognitive performance of its users by adopting specific physical features and material characteristics. In 2014 he was an invited tutor for the workshop Creative Transformations, three building typologies for the processes of knowledge production at the Harbin Institute of Technology (HIT) in China.

First supervisor and director of studies: Prof Teresa Stoppani
Second supervisor: Dr Doreen Bernath



KIRSTIE GREGORY
Ancient and Modern: Contemporary Sculpture and Historical Architecture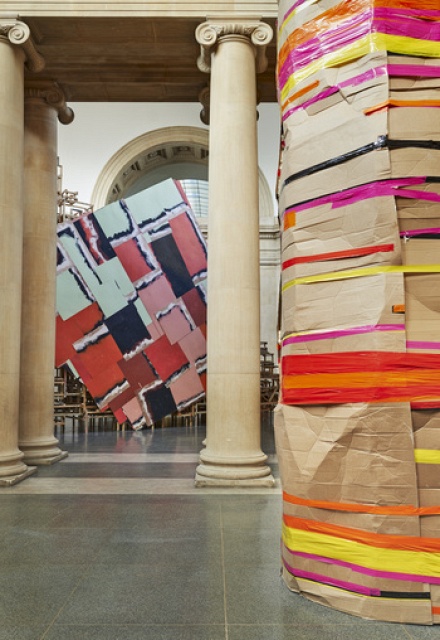 Image: Installation view: Phyllida Barlow, 'dock', Duveen Commission, Tate Britain, London, England, 2014. Photo: Alex Delfanne

This research takes a contemporary lens to explore the timeless relationship between architecture and sculpture. Using previously unutilised sources and through a series of case studies, the research looks into contemporary, temporary art installations sited in historical architectural settings. In each instance, the research considers how these relatively ephemeral visual and spatial additions affect their established settings, and vice versa. What does each practice gain (or lose) from the diverse initiatives behind these cross-chronological commissions and individual artistic motivations? Case studies will include civic, domestic, ecclesiastical and museum architecture and work by sculptors with similarly varied stylistic practices.

Kirstie Gregory (BA(H) History of Art, Dip Museum Studies, MRes History of Art) is Research Programme Assistant at the Henry Moore Institute, Leeds. Kirstie recently completed a Masters by Research on the work of Romanian/British sculptor Paul Neagu and has been working as a curatorial assistant on his forthcoming (Summer 2015) solo exhibition at the Henry Moore Institute. She is an interviewer for the British Museum's National Life Stories oral history project for which she is currently interviewing sculptor Phyllida Barlow. Her writings have been published in Sculpture Journal, Careers in Art History, Glamourie, and in An Introduction to the Principles of Symmetrical Intimacy Volume 1.
First supervisor and director of studies: Prof Teresa Stoppani
Second supervisor: Dr Doreen Bernath



---
Visiting Scholar
---
DANAI KONSTANTINIDOU
Heritage Preservation in the Age of the Empires: the case of British Cyprus

In the late nineteenth century, in an age of trial and error for the conservation of built heritage, ambitious British officials concerned themselves with the antiquities of Cyprus, a typical oriental place formerly under the Ottoman regime and a late addition to the British Empire. Even though the British justified establishing and ruling over the colonies as civilizing and westernizing missions, having administrative rights over the mostly Christian and culturally an integral part of the Hellenic Mediterranean presented challenges. British rule found its mission in the restoration of the glory of medieval Cyprus, particularly during the Crusader Period. Just like the Italian interventions on Roman antiquities in Northern Africa, the restoration of medieval monuments in Cyprus created a much-desired link between this far off island and Britain. By misrepresenting, appropriating or erasing aspects of the island's history and archaeology, these contradictory, unsystematic and often opportunistic British choices shaped Cypriot architectural heritage. Seeing these actions in the wider context of the Empire and combining archival resources in Cyprus and in England with onsite observation and the use of new technologies, this research seeks to establish facts about the methodologies, events and results of restoration projects before the founding of the Cypriot Department of Antiquities in 1935, in an attempt to show how it was the decisions taken during the short British administration that shaped our experience and perception of Cypriot built heritage.


Danai Konstantinidou, MA Architecture (Thessaloniki), MCMS (Master in Conservation of Monuments and Sites, Leuven), is currently in her third year of doctoral research at the Science and Technology in Archaeology Research Center (STARC) of The Cyprus Institute of Nicosia. Her interest in historic preservation and its political associations led her to spend a semester at Leeds Beckett University to collaborate with Dr Maria Theodorou, in order to further explore this connection and to study archives located in the UK..
http://www.cyi.ac.cy/index.php/starc/about-the-center/starc-our-people/itemlist/user/168-danai-konstantinidou.html
Supervisor at The Cyprus Institute: Dr Nikolas Bakirtzis, Assistant Professor and Chair of the Faculty and Senior Staff Council of STARC.
Supervisor at Leeds Beckett University: Dr Maria Theodorou, Senior Lecturer and Architectural History and Theory Coordinator at the Leeeds School of Architecture.
---